With both Little League teams and MLB players about to start up their seasons, and Valentine's Day being just around the corner, we are officially well into the New Year with our sights firmly set on spring, longer days, warmer temps and people out looking to buy a home. If you are one of those out on the house hunt, here is what the first 30 days of 2019 are telling us about this year's LA Westside real estate market.
In the 4 key Westside areas of West LA, Culver City, Palms/Mar Vista and Santa Monica, the numbers show that in regards to closed sales in January 2019 over 2018, West LA was pretty much the same in only being down 2.2%. In the areas of CC, P/MV and SM, we see more of a drastic percentage drop in closed transactions, with those numbers being down 29.8%, 25.5%, and 15.8% respectively.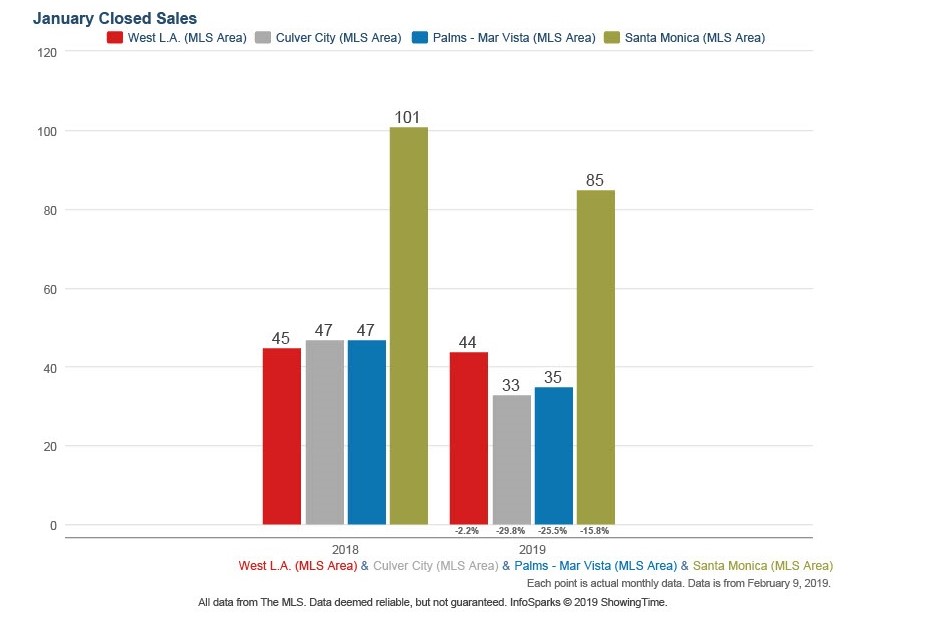 The number of homes for sale, show a reverse trend with Culver City having 106 homes available in January 2019 vs. 99 for 2018, a 7.1% increase. Palms/Mar Vista jumped from 108 available homes in January 2018 to 146 last month, a 41% increase year over year, while Culver City had a whopping 124.6% year over year increase in the number of available homes, going from 61 in January 2018 to 137 in January. Santa Monica, in being the sole outlier of the group, saw its available number of homes shrink from 662 to 469, a 22.9% drop.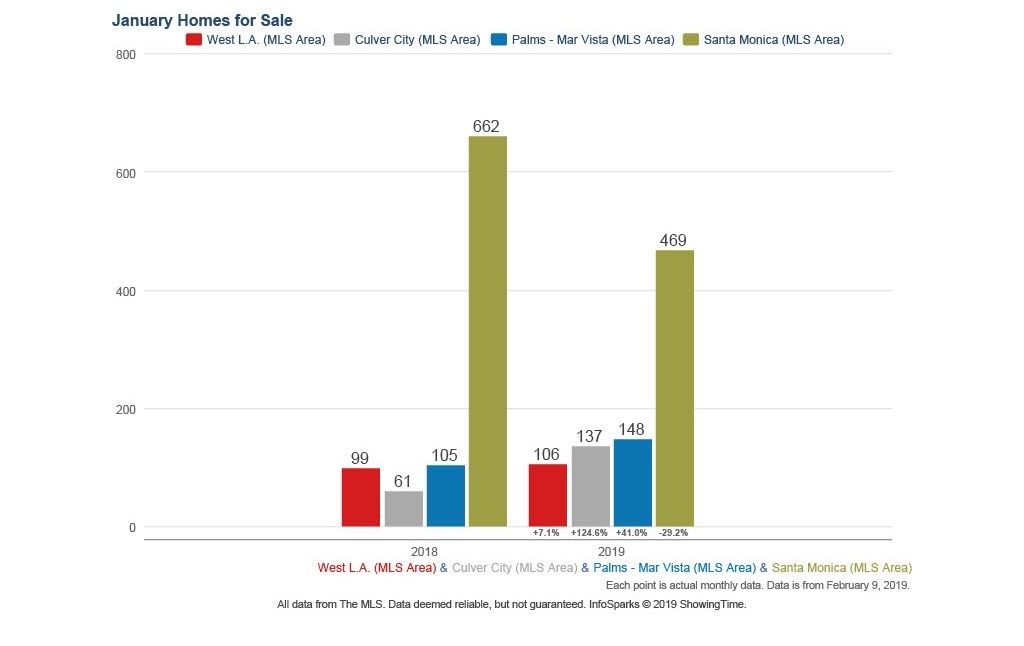 Days on market, a strong indicator as to the pace of any real estate market, shows things on the Westside have been slowing down a tad. Median days on market for Culver City was up 7.2% year over year, going from 28 to 30 days, while West LA was also up from 18 to 22 days, a 22.2% increase. Conversely, we see Santa Monica days on market going from 40 to 33, a 17.5% decrease, and Palms/Mar Vista went from 33 days to 27, a 18.2% decrease. The decrease in days on market in Santa Monica could be attributed to the fewer number of homes available, while in Mar Vista, we may be seeing the effect of more sellers pricing to the market, which is causing homes to sell faster.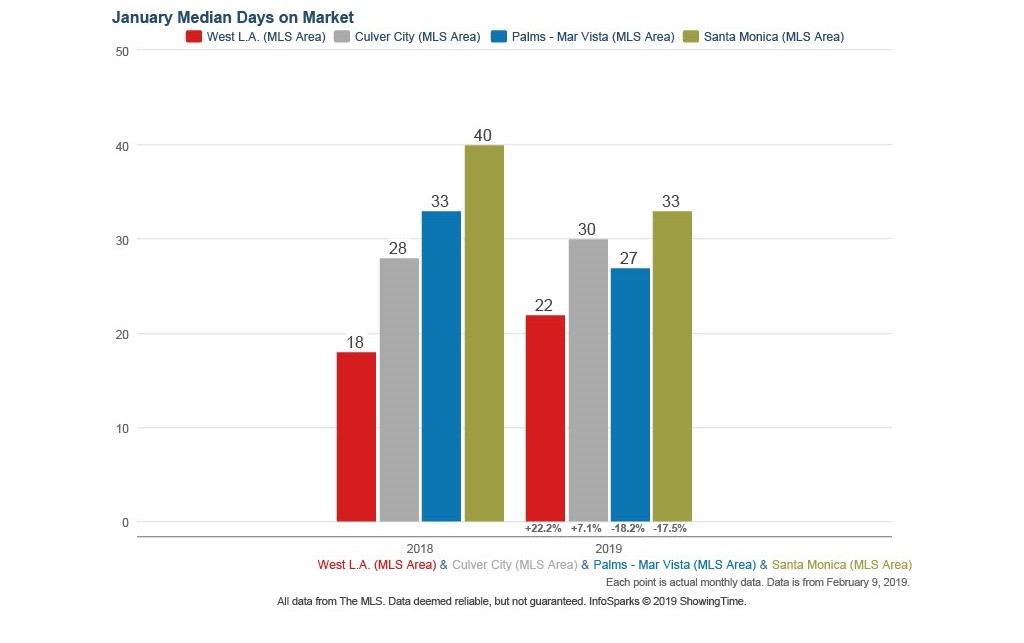 Our biggest indicator as to the "State of the Real Estate Market" and how we define whether a market is a seller's, buyer's or balanced, comes from our last group, total months supply of inventory. While Santa Monica's months of inventory was barely up year over, going from 5.4 to 5.5 a 1.9% increase, the rest of the Westside tells a different story. In West LA, the numbers were up 54.2%, going from 2.4 to 3.7 months year over year. In Culver City and Palms/Mar Vista the numbers were even more drastic, with Culver City going from 1.6 to 4 months, a 150% increase, and Mar Vista going from 2.2 to 6.4 months, a colossal 190.9% increase. By definition, a balanced market has 6 month's of inventory. Anything less is considered a seller's market, and anything more, is considered a buyer's market.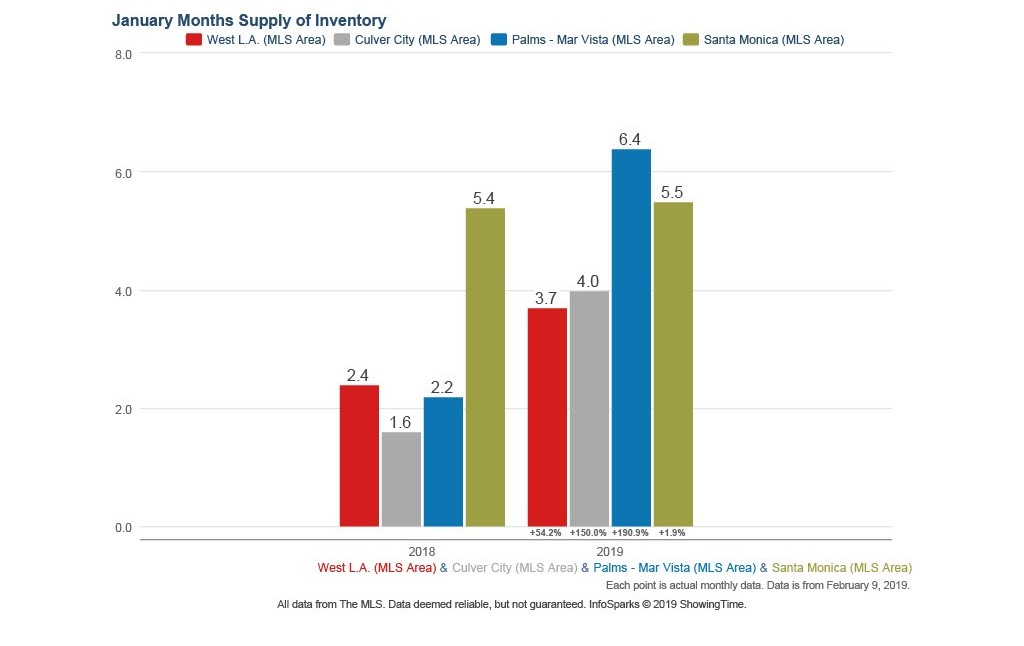 As these numbers hold true to the predictions of many local, regional and national forecasters, that 2019 would be a year of fewer home sales, with more homes being available and slower overall appreciation, what does it all mean for someone looking to buy or sell a Westside home in 2019? If you're considering buying a home, now is the time to do so, as there are more available homes to choose from and interest rates are currently at a 10 month low. Plus, there are fewer buyers in the market than there will be in the months to come. If you're thinking about selling, being ahead of the competition of homeowners who wait until later in the spring to list their homes, could be advantageous in helping to net more money.
As always, if you have questions on buying/selling or about the current state of the LA Westside market, feel free to call/text us at 310-403-7381, or send us an email at info@lawestsidehomevalues.com.