What a Year It's Been
It would be impossible to fully describe the first three months of 2020, and yet, if I had to choose one word it would most likely be "unprecedented". From the loss of Kobe Bryant to Coronavirus, the first 90 days of the year has definitely walloped a big punch to us all. In spite of everything and to the surprise of many, the LA Westside housing market has continued to chug along, although more slowly. With the spring buying season officially underway, let's look at what the month of March reveals about the Coronavirus effect on the current Westside Markets of Santa Monica, Palms/Mar Vista, Culver City, and West LA.
Homes for Sale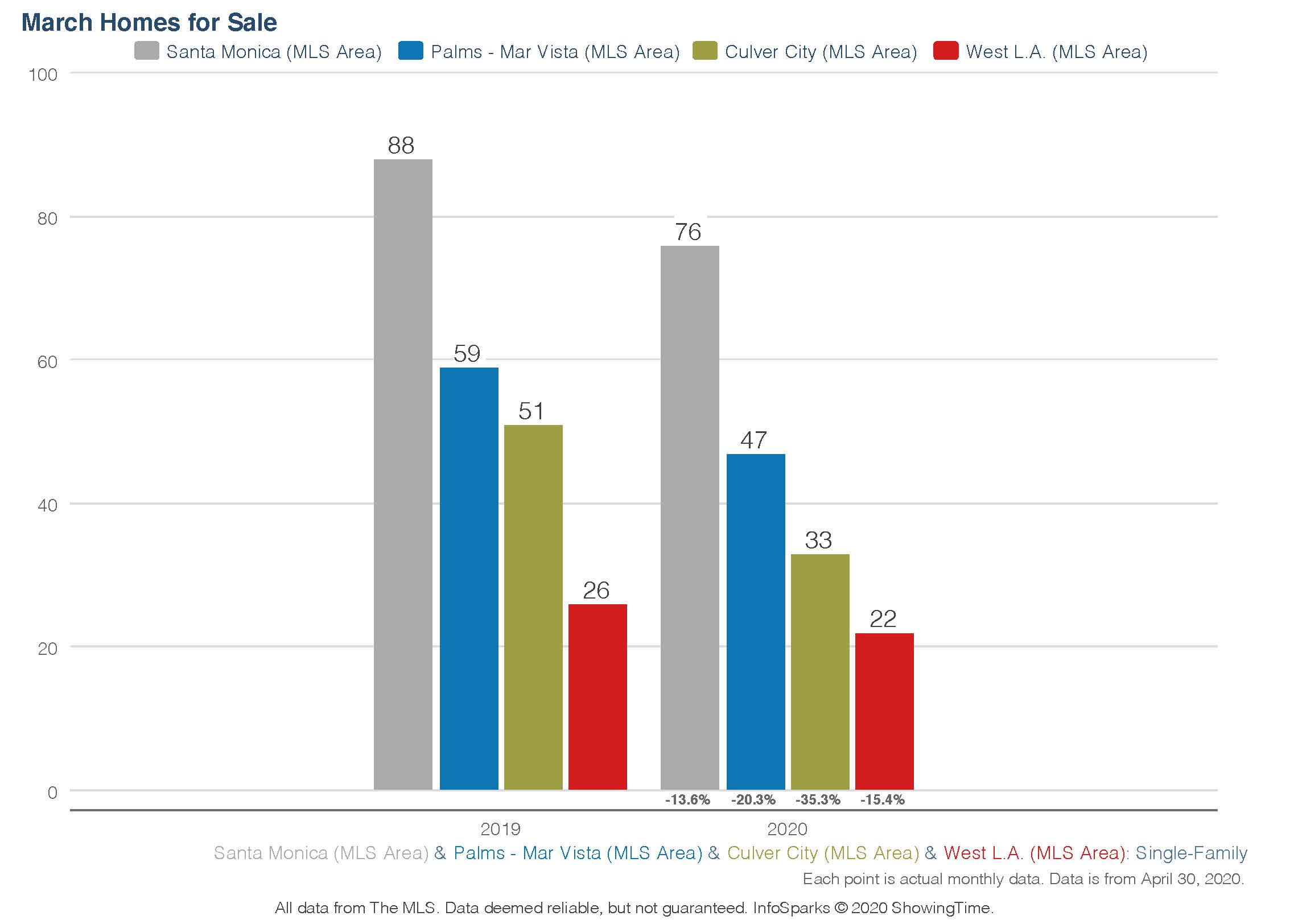 In looking at the number of homes for sale for the month of March, we see evidence of the expected trend of 2020 being a year of fewer homes for sale as inventory was forecasted to tighten. We saw fewer homes hit the market in all four areas with the number of homes in Santa Monica dropping from 88 to 76, a 13.6% decrease, and from 59 to 47 in Palms/Mar Vista, a 20.3% decrease. Conversely, Culver City saw the most dramatic decrease in available homes going from 51 to 33, a 35.3% drop. On the other hand, West LA experienced a more modest 15.4% decrease in going from 26 to 22 homes. To see the March 2019-2020 year over year data, click here.
Homes Sold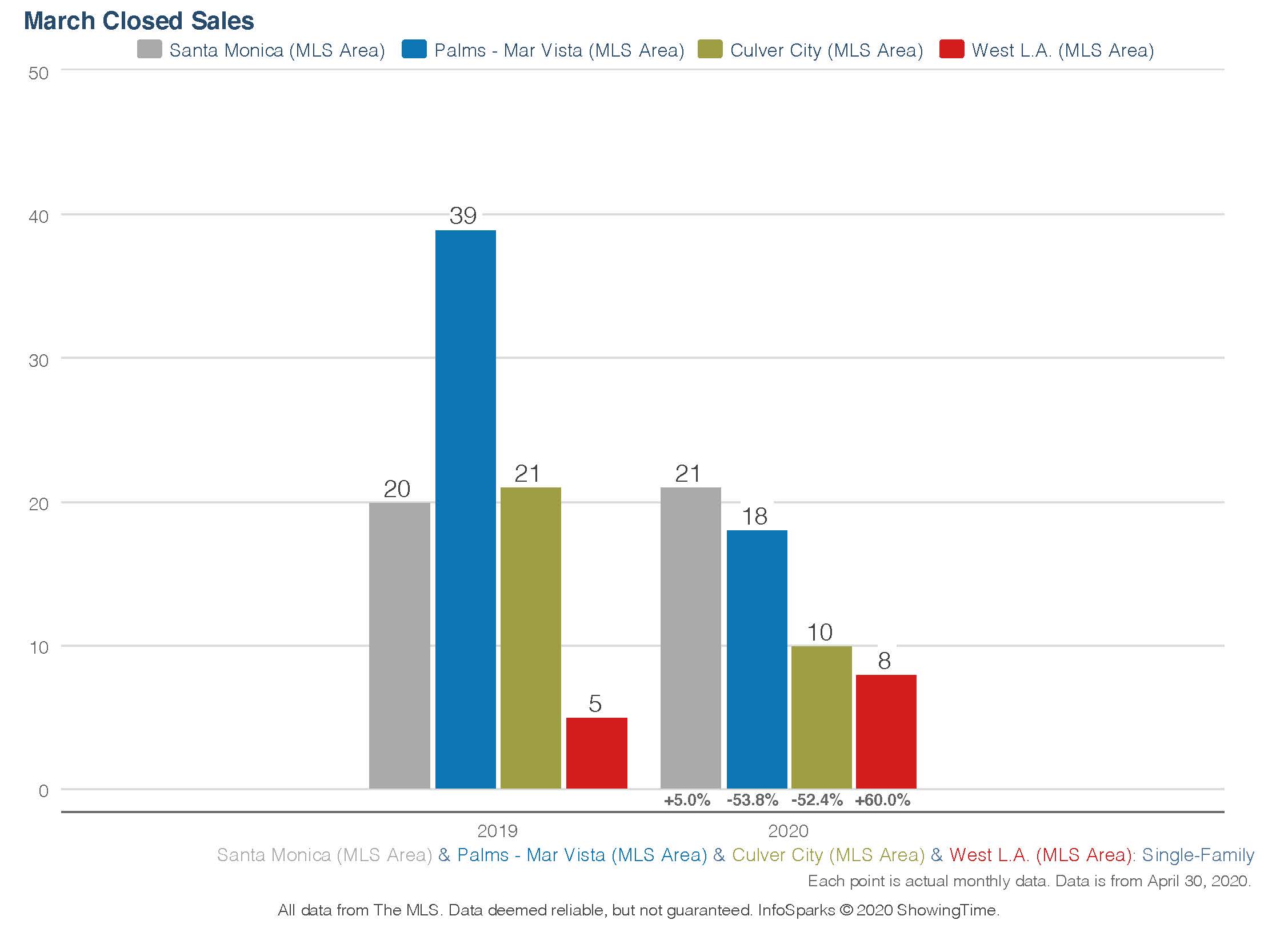 What we see for the March data is that the numbers started off strong, due to existing homes that were in pending status and scheduled to closed. Once we hit the middle of the month with the shelter in place order beginning on March 19th, sales came to an abrupt halt. For the month, closed sales were down 52.4% in Culver City and 53.8% in Palms/Mar Vista. Conversely, sales were slightly up in Santa Monica by 5% and by 60% in West LA. To see the March 2019-2010 year over year data, click here.
March Days on Market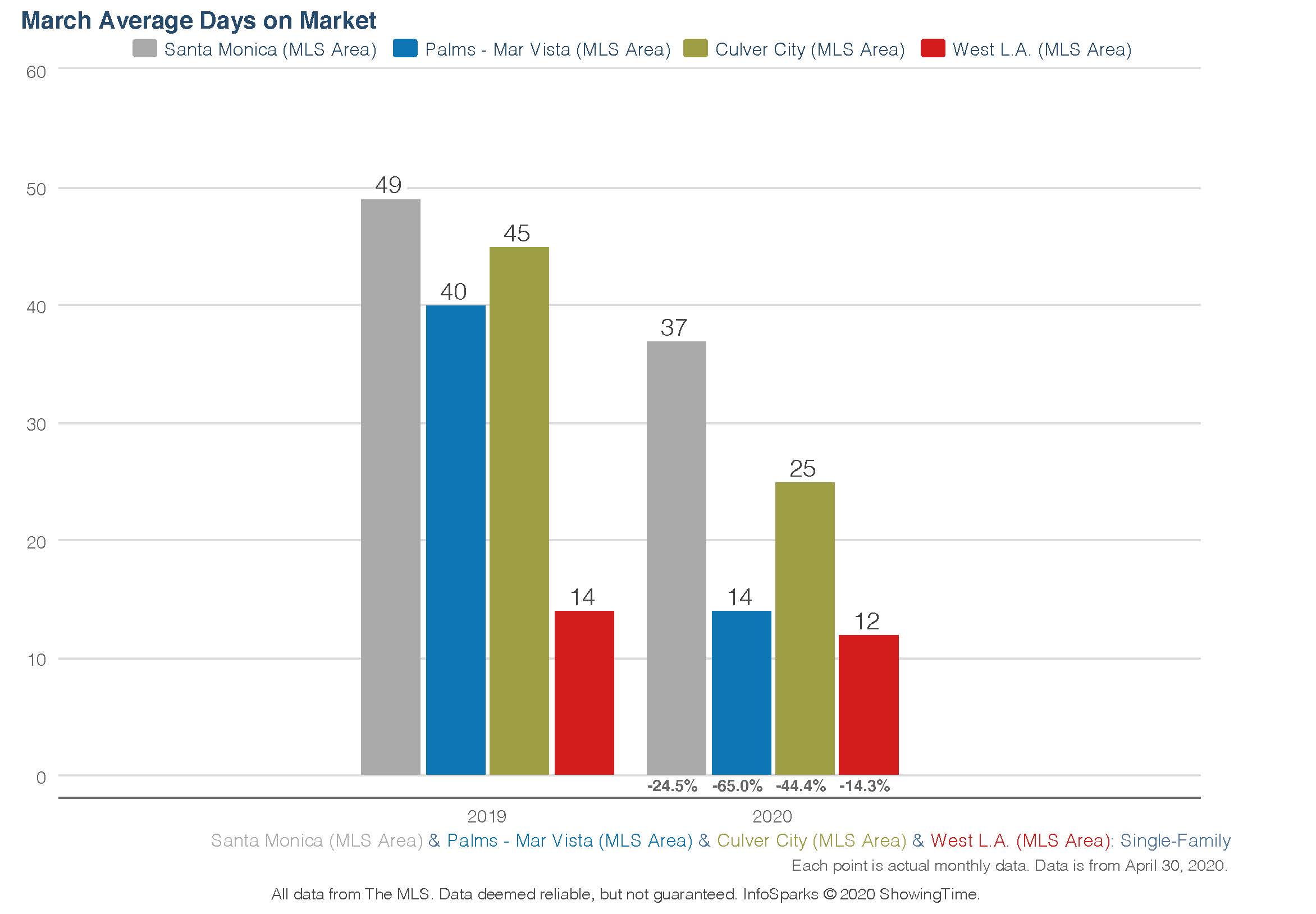 Covid-19 appeared to have no effect on the number of days on market for March inventory. All four areas saw a healthy drop in days on market with Palms/Mar Vista leading the way in going from 40 to 14 days, a whopping 65% decrease, while Culver City was down substantially as well, going from 45 days to 25 days, a 44.4% decrease. Santa Monica was down 24.5% going from 49 to 37 days on market and West LA's two-day drop from 14 to 12 days, accounting for a 14.3% decrease. To see the March 2019-2010 year over year data, click here.
Average $ Per Sq. Ft.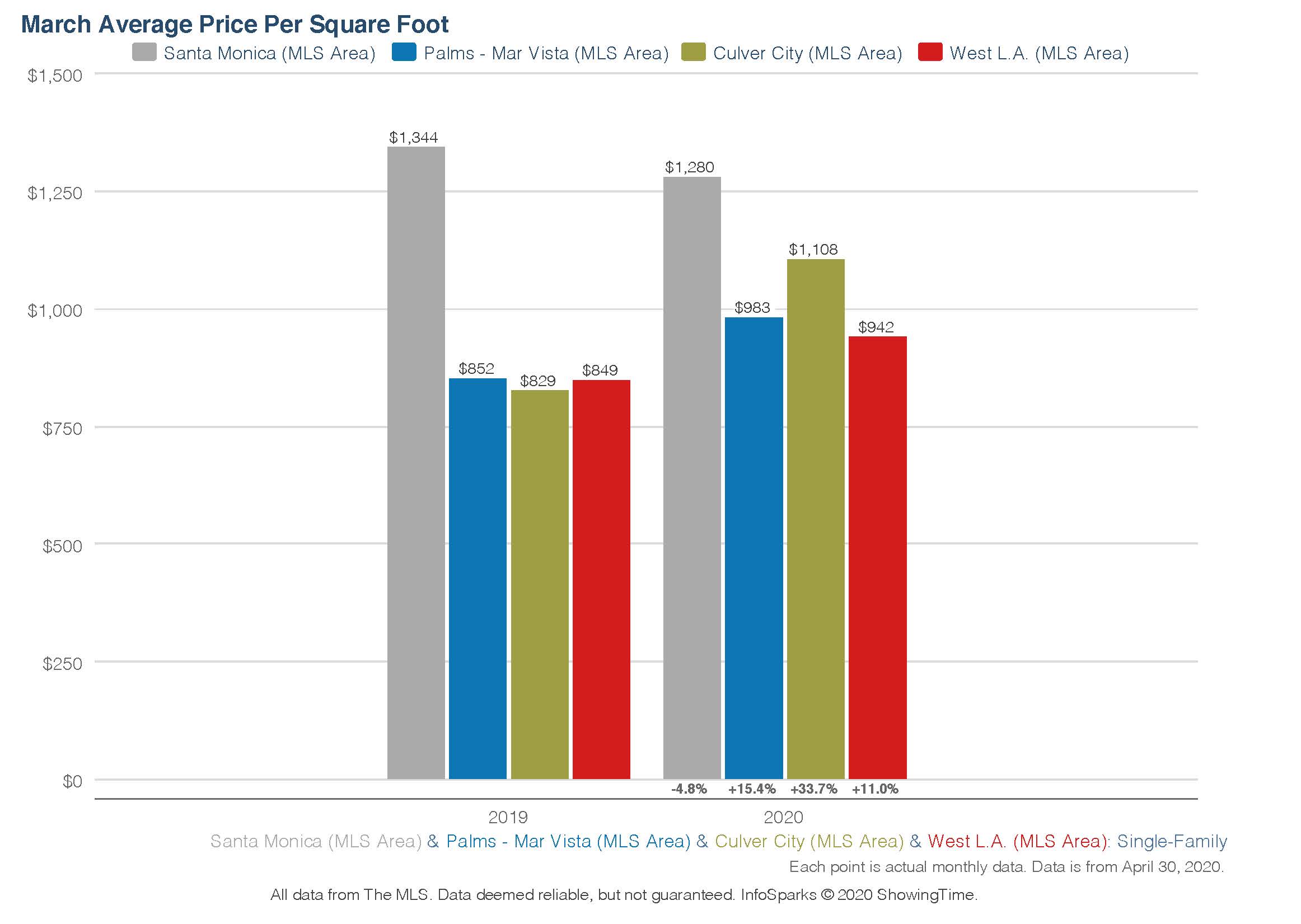 Average $ per sq. ft. tells a varying story in being down in one area and up in the three. Looking at Santa Monica, we see an average $ per sq. ft. drop 4,8% from 2019 to 2020 in going from $1,344/sq. ft to $1,280/sq. ft. In Palms/Mar Vista, we see that number goes from $852/sq. ft in 2019 to $983/sq. ft., a 15.4% increase. Culver City led the pack with a 33.7% increase in average $ per sq. ft., in going from $829/sq. ft. in 2019 to $1,108/sq. ft. in 2020. West LA had the most modest annual gains at 11% in going from $849/ sq. ft. to $942/sq. ft. To see the March 2019-2010 year over year data, click here.

Month's Supply of Inventory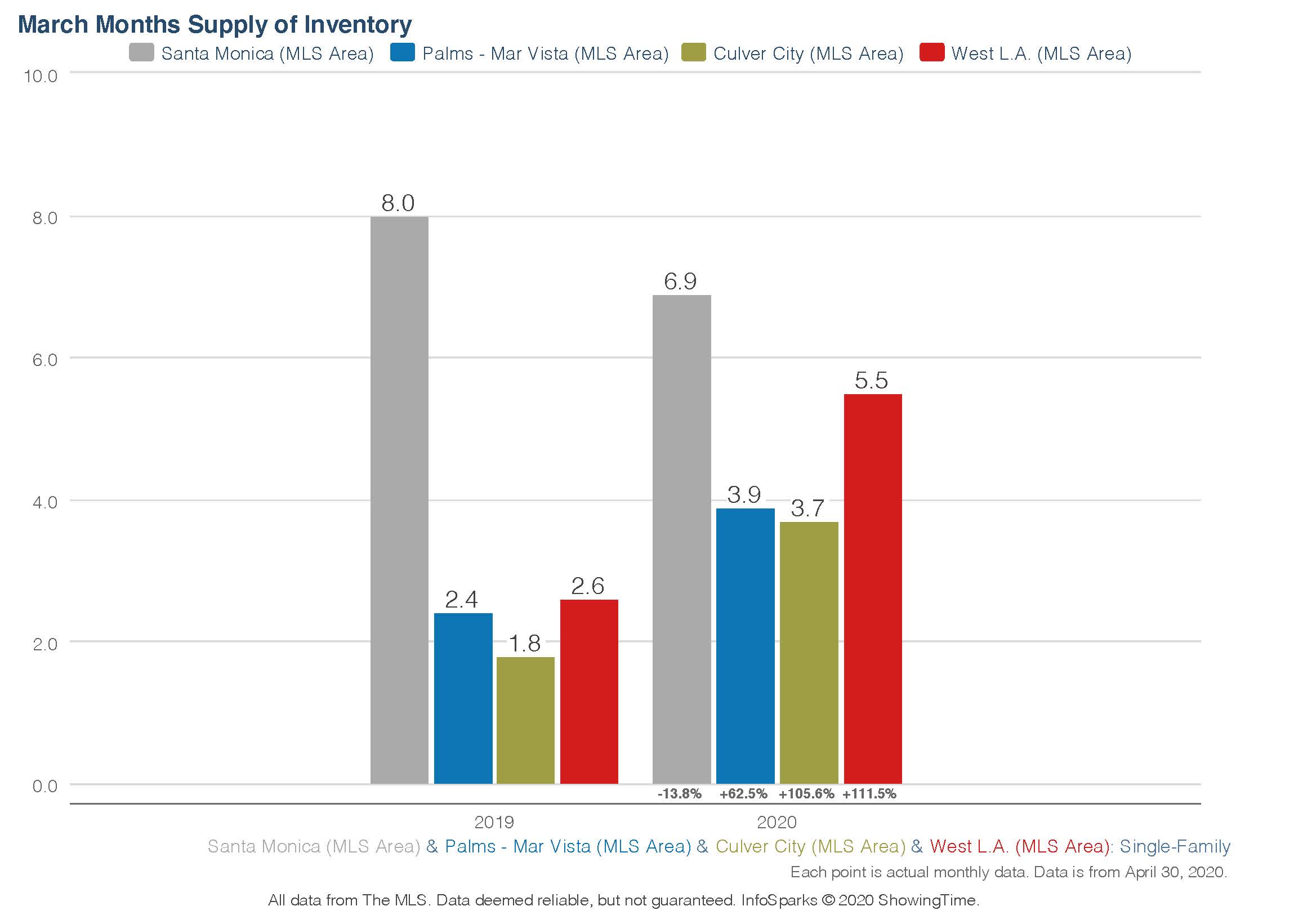 The data for the month's supply of inventory, outside of Santa Monica, seems to contradict many of the other sales figures. There we saw a decrease in the month's supply of available homes going from 8 to 6.9 months, a 13.8% decrease. In the other areas, we saw a substantial increase in the month's supply of inventory with Palms/Mar Vista going from 2.4 to 3.9 months of available homes, a 62.5% increase. Conversely, Culver City and West LA showed over 100% increases year over year with Culver City going from 1.8 to 3.7 months, a 105.6% increase, and West LA ballooning from 2.6 to 5.5 months inventory of available homes, a whopping 111.5% increase. In defining real estate markets, a balanced market is 6 months of inventory. Anything less is considered a seller's market and anything more is considered a buyer's market. To see the March 2019-2010 year over year data, click here.
What it All Means
The numbers for April are showing a 22-41% decrease in homes for sale, in addition to the number of closed sales being down between 54-64% over 2019. Days on market vary in being down over 35% in Santa Monica and Palms/Mar Vista and up 60% in Culver City. Month's supply of inventory is up in all four areas, yet, it may not feel that way in an overall market of low inventory. Last but not least, $ per sq. ft was down over 10% in Santa Monica, barely down in Palms/Mar Vista and Culver City, and up 27% in West LA.
If the Coronavirus effect over the last two months is an indicator as to what the rest of 2020 will look like, it will be a year of fewer sales due to continued tight inventory and fewer buyers being in the market. This along with the recent drop in interest rates, should keep prices stable and demand high for now. Given the current climate of Cocvid-19 and the looming uncertainty of the economy, jobs, and the pandemic itself, the housing market could be susceptible to change in the months ahead.
If you're looking to sell your LA Westside home and yet, concerned about the potential risks, don't worry, we have buyers and we'll sell it safely too. Virtual consultations, 360° tours, and virtual showings – no person-to-person contact. Call or text me. I'm available to chat with you for an ideal asking price or to get you an instant offer now to skip the showings. If you're looking to buy, the same guidelines apply. Your safety is our #1 priority.
Wishing you continued safety and health.