The Unmasking and Reopening of the Country, the COVID Delta Variant, and a Return to 2020?
The biggest news of the second quarter would be the CDC, state and local government's lifting of the COVID restrictions which had been in place since April 2020. Doing so essentially reopened the state of CA and country, bringing us back to the normal, pre-COVID way of life we were all used to. Reopening though, comes with its challenges. The Delta variant, a more contagious strain of COVID-19, was first discovered in India in December 2020. It has since become the most dominant strain and is responsible for more infections than the original COVID strain. This recent spike in COVID infections has caused many states and the CDC to re-issue their indoor mask mandates in an effort to curb the spread.
Despite the ups and downs regarding COVID-19, the 2021 real market continues to move along at its record-breaking pace. Although we have seen a slower rate of appreciation in Q2 vs Q1 and a slight increase in days on market, neither have affected the local Ladera Heights market. In Q2, there were 18 homes that came onto the market and 20 that sold. Here is what the numbers look like year over year.
Ladera Heights Market Update Q2 2021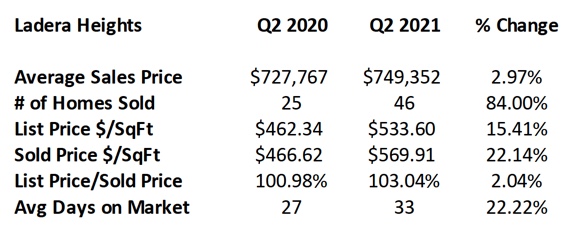 In comparing the year over year numbers, what stands out the most is the fact there were 2.5 times the Number of Homes Sold, going from 8 in 2020 to 20 in 2021, a whopping 150% increase. The next leading indicator of a strong market was the Average Sales Price. It went from $1,333,167 in 2020 to $1,694,297 in 2021, a 27% increase. List $/Sq Ft was up 10% going from $517.63 in 2020 to $569.21 in 2021. Comparatively, Sold $/Sq Ft went from $531.60 in 2020 to $594.33 in 2021, a 12% increase. The one surprising indicator was Days on Market. It was up 154% going from 13 in 2020 to 33 in 2021. This is most likely an outlier from the data of the two periods than a sign of a slowing market.
The Road Ahead
Looking down the road into Q3, forecasters are predicting a 4% increase in inventory nationally in the months to come. This along with the surprise recent drop in interest rates should continue to fuel the current Ladera Heights market. As we are still averaging between 1-2 Months Supply of Inventory, buyer demand will continue to be strong, prices will continue upward (although not at the same pace as the last 12 months), and more sellers will be bringing properties to the market. This should help to satisfy, and yet, not quench the thirst for homes for sale in Ladera Heights.