Omicron, Inflation and Rising Interest Rates…OH MY!
As we headed in the final stretch and last quarter of 2021, three of the biggest buzzwords across the country saw a rise in the number of times we heard them, as well as there being an actual rise in all three. First there was Omicron, a new variant of COVID-19 that spread across the country due to its being extremely contagious, even for some who had been fully vaccinated against other variants, such as Delta. The rise in Omicron cases toward the end of the year and the fear of rising cases due to holiday travel, had the US economy and its citizens bracing for the worst.
Secondly, all the debate surrounding inflation in whether it would be transitory or long-term, played out with long-term winning, at least for now. In 2021, we saw inflation numbers at their highest in the last 31 years, rising to 7% in December. What did that mean for everyone across the country? It meant a rise in the cost of everything from gas to groceries to everything in between. Although the US saw an increase in wage growth, it was stymied by the pinch Americans were feeling in their wallets.
Thirdly, and most importantly as it pertains to the housing market and home values, we saw a sharp spike in mortgage interest rates. Echoing the old cliché "all good things must come to an end, we saw mortgage interest rates jump in November/December from an average of 3.0% for a 30-year fixed, to around 3.41% to end the year. This trend has continued into 2022 with the consensus being the days of historically low rates is over. Interest rates have a huge effect on the housing market in that rising interest rates decrease a person's buying power. A 1% rise in interest rates means a 10% decrease in purchasing power. At some point rising rates will squeeze certain buyer out of the market. Over time, fewer buyers will mean less demand, and with less demand comes a softening in prices. This is not in the forecast for 2022 as local LA and national demand, far outpace the supply of available homes.
Proof of continued demand in the local Ladera Heights real estate market is seen by looking at the numbers for Q4 2021. Where we typically see a slowdown in the last 90 days of the year, we saw the opposite with year ending nationwide inventory in December 2021 being 14% lower than that of 2020, which is a 1.8 month supply of inventory. For Q4 in Ladera Heights, 25 houses come onto the market and 11 sold. Here's what the year over year numbers look like.
Ladera Heights Market Update Q4 2021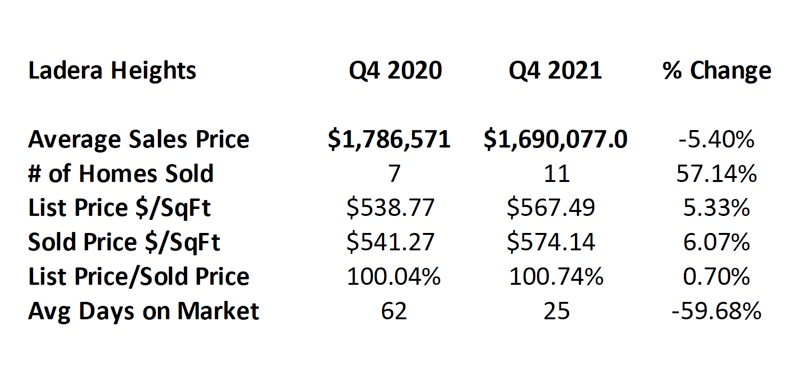 In reviewing the year over year numbers, the first one we look at is Number of Homes Sold, which went from 7 homes in 2020, to 11 in 2021, a 57.14% increase. Next, we look at Average Sales Price, where we saw a 5.4% decrease going from $1,786,581 in 2020 to $1,690,077. Average Sold $/SqFt was also up 6.07%, going from $541.27 to $574.14. List Price to Sales Price was up slightly, going from 100.04% in 2020 to 100.74% in 2021, a modest increase of .7%. Where we saw the biggest change was in Days on Market, which was down 59.68%, going from 65 days in 2020 to 25 days in 2021.
The Forecast for 2022
When it comes the 2022 real estate market, all of the real estate giants such as Zillow, Redfin, and the National Association of Realtors, are saying the same thing, we are in line to experience another very strong year for real estate. Prices will continue to trend upwards, although not at the same torrid pace we've seen over the last two years. Interest rates will also continue to rise, getting more buyers of the fence and into the market, putting additional pressure on already low levels of inventory. As more and more people are staying in their homes longer (10 years on average), inventory will continue to be scarce overall, although we will see more homes come onto the market as we near the spring and summer season. With January activity being near what the spring season normally brings, we could be in for another repeat of 2021. Strap yourself in and get ready for another wild ride in the housing market.